A hasty bike ride to Santa Barbara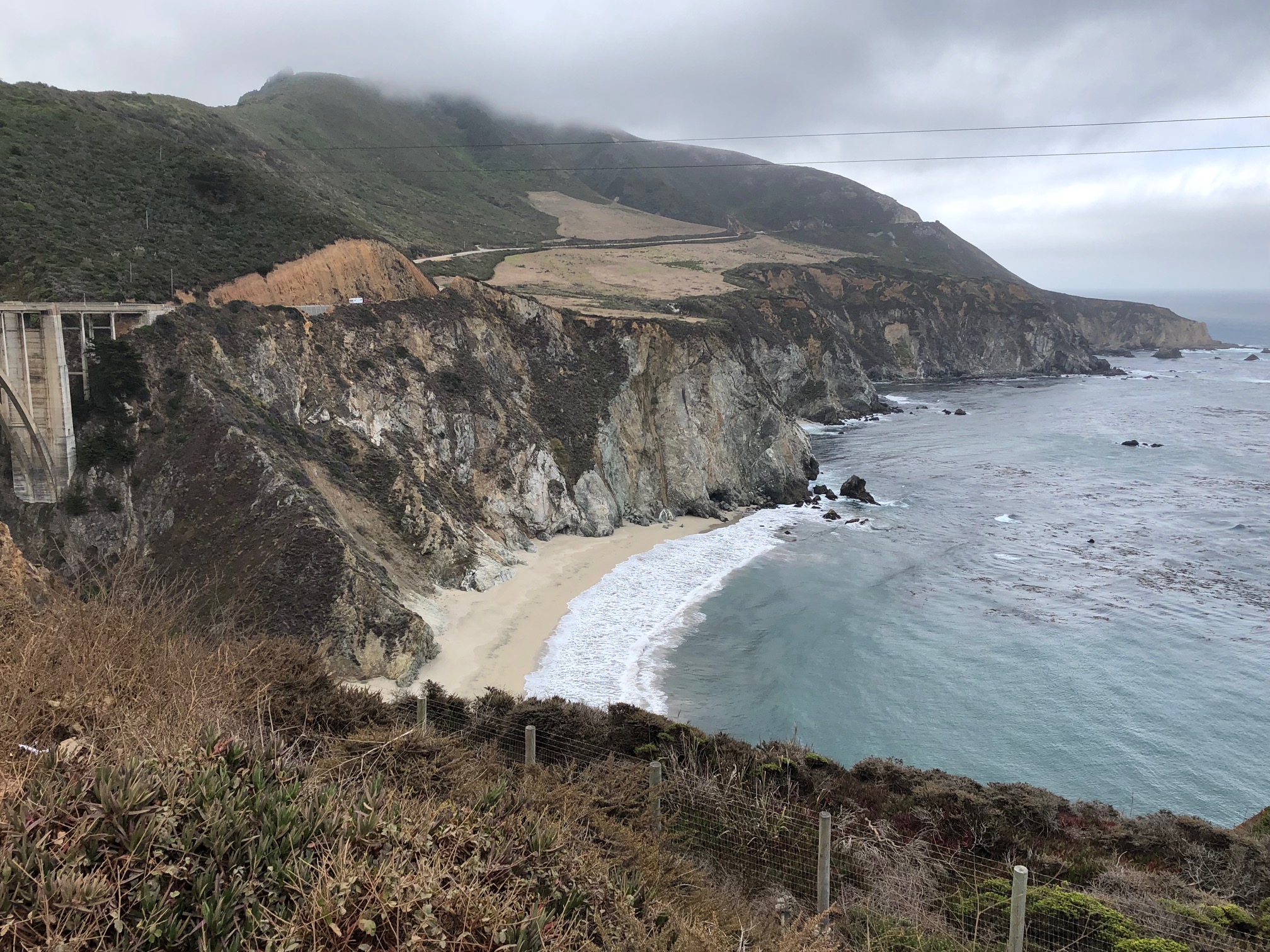 Almost exactly 20 years ago, I joined a group of friends in San Francisco and got onboard the Green Tortoise hippy bus to Seattle. We spent the next few weeks biking down the coast to San Francisco and while it was an epic journey and was full of good times, it came with some nasty surprises. But, from the soggy rain forests of Washington, the windy flats of Oregon, and tall trees of Humboldt county, we saw some of the west coast's best scenery.
I always wanted to continue on further south but between graduate school, work, kids, and the usual stuff it was put on hold. Just under two years ago I started riding again after a multi-year break and six weeks ago I decided I'd do a solo ride down to Santa Barbara.
Now, there were some learnings from the last trip and this time I made a couple decisions early on:
I would ride to Santa Barbara and take the train back. I couldn't take my bike on a flight without a travel bag, and flights from Santa Barbara on Labor Day would be insanely expensive.
I wouldn't carry any camping or cooking gear. It's too heavy, too hard on the bike, and slows you down. Plus, I can afford a hotel for the night now, and sleeping on the ground sucks (although, you hear the best stories at the hiker/biker campsites).
I would go solo. Honestly I would have ridden with others, but my planning was a bit on the weak side (as you'll read in a bit), and finding someone who could get away in such short notice was going to be impossible.
So there it was, I had 4 days to ride south and get home. Now I had some logistics to square away.
I didn't want to wear dirty bike clothes every day, and washing them in the sink just doesn't work. So I had to send clean clothes to each stop. Plus, I would have to go out to dinner, and most decent restaurants don't want stinky bikers in them. Finally, the train ride back to the Bay Area is over 8 hours, and without a laptop I'd go nuts.
So the plan would be to ship packages to each destination and ship back the dirty stuff before leaving. I could have shipped directly to the hotels–that may have been a smarter move, but I was booking on the late side, on Labor Day weekend, at the cheapest places I could find–places you would never mail your laptop. So I made the swift decision that I didn't want to gamble with that, and had things shipped to FedEx office centers. The trip was now fixed distance each day, because I would have to get to the FedEx location before they closed to pick up my stuff.
Now, there are seemingly FedEx office centers everywhere you look until you start looking in weird places. That severely constrained the locations that I could stay, and I ended up choosing Monterey, San Luis Obispo and finally Santa Barbara. Packages to Monterey and San Luis were sent on Wednesday and on Thursday to Santa Barbara.
Friday morning I started riding at 7AM. I've done the ride to Monterey before–it's a fun stretch along Foothill through Cupertino, Saratoga, Los Gatos, then over the Santa Cruz mountains into Soquel. Along the way to the mountains, I passed by three high schools, and I'm going to say, there are some really horrible drivers out there (Monte Vista is by far the worst). I don't know if they were kids or parents, but I strongly suggest that you avoid school areas when you're on a bike, period.
Los Gatos is a lovely town and has a great downtown. You ride from there up to Lexington Reservoir on a dirt trail called the Los Gatos creek trail. It was full of the non-working elite, walking in the middle of the path with tiny dogs and wearing Lululemon tights, acting like they owned the place. Maybe they did, but it was pretty annoying (no offense to non-working people–you're lucky but you can still share the trail!)
I stopped in Aptos for some coffee, and from then on it is almost all farm roads. It's neat to see the crops growing–the smell of strawberries and seemingly endless space. At the same time, I constantly feel like I'm going to be killed by a tractor, not because farmers want to kill bikers, but because there's nothing ever out there on the roads, and why should they expect a biker?
There's an epic part of the ride where you hop on highway 1 around Moss Landing. If you've ever driven Highway 1 through that section and seen bikers hauling ass heading south, it's not necessarily true that they're unbelievably fit riders. There's a legendary tailwind that whips through that area and gives you serious push for about 8 miles. When the tailwind buzz dies off you zig-zag through Marina, Fort Ord, then the treacherous Monterey bike path. This is the point in the ride where you stop the timer and just take it easy–the tourists in the four-person bikes are nearly as dangerous as the high school drivers.
Monterey is a beautiful city, even if it has horrible weather. It is little known that right about now is Monterey Summer, so it was nice when I was there (they may be one of the few beneficiaries of climate change).
Day 1 riding numbers: 5h 7m, 92 miles, 4600 ft of climbing. I felt great.
I started day 2 a bit late–I wanted a coffee and my favorite spot didn't open until 7, so I was riding a bit after 7:30. No problem I thought! It's just 100 miles and mostly flat…
I did a side trip along 17 mile drive which is a pretty remarkable stretch of road that ends in Carmel. There are usually a million cars on it but I got through early enough that I only saw one car and one jogger.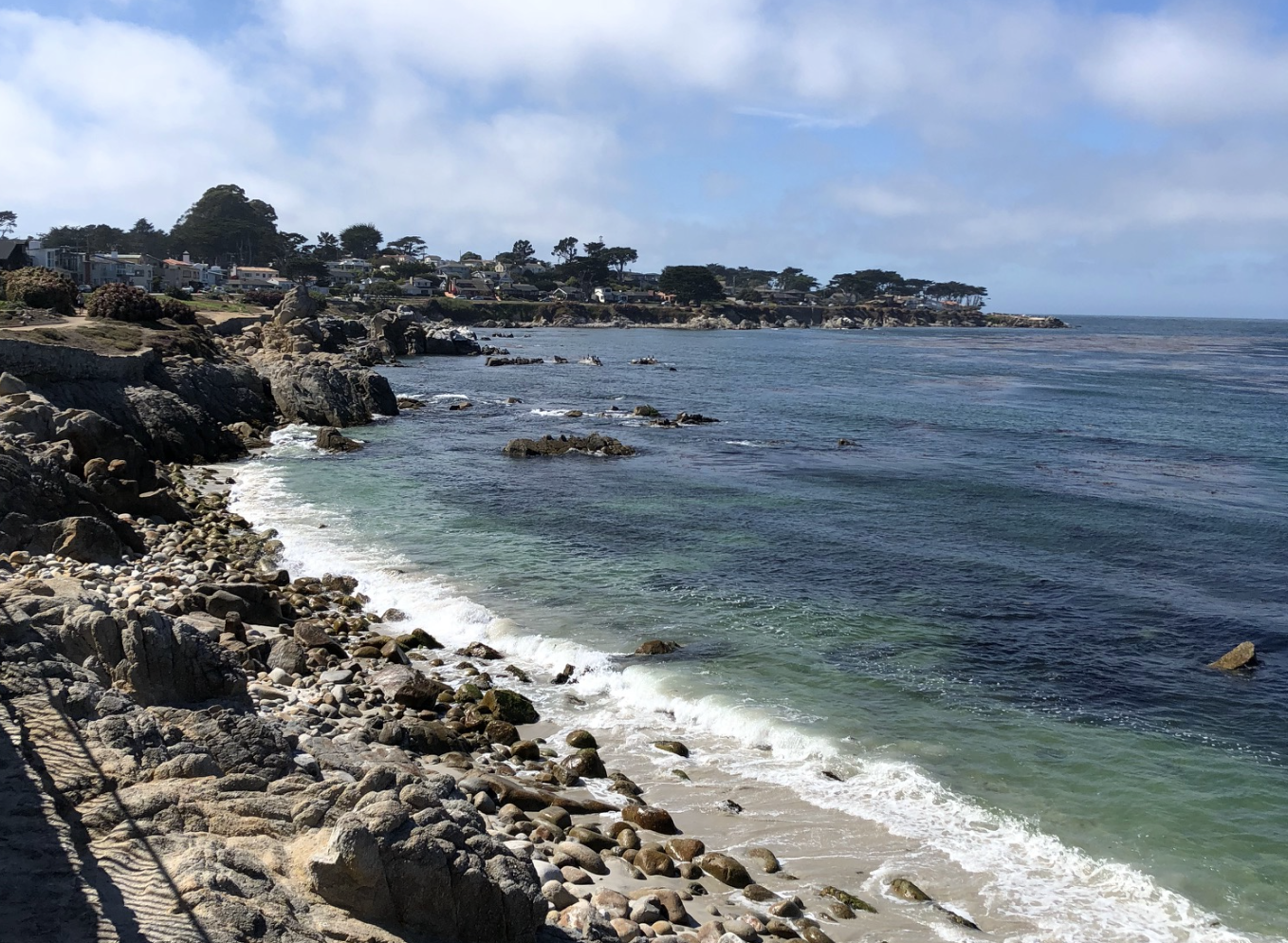 On highway 1 south I had a few worries right off the bat. First, I was hoping to miss the traffic, but there were cars zooming past at crazy speeds. Most of them were courteous and left a lot of room, though. Next, I saw a sign that I swore I was misreading: "Hearst Castle 93 miles". How could that be, if it's another 50 miles from there to San Luis Obispo? Something didn't seem right.
The road starts out straight and gets more twisty and hilly. Honestly you barely notice the hills because the terrain is so beautiful. The road towers over 1000 foot cliffs, and the blue swirling water looks like an abstract painting. There are cars on the road, but they're driving slowly, taking in the views. Nobody drives that route on a holiday weekend who doesn't want to see the sights, so it actually didn't feel overly dangerous to be on a bike. I rode about the same speed as the sightseers as they would pass, stop for photos, and take off again.
It was also really cool to see people just enjoying the views. I must have seen dozens of people who just parked their cars and sat in lawn chairs to look at the views. In our society where entertainment has become a necessity, it was encouraging to see people be entertained by nature.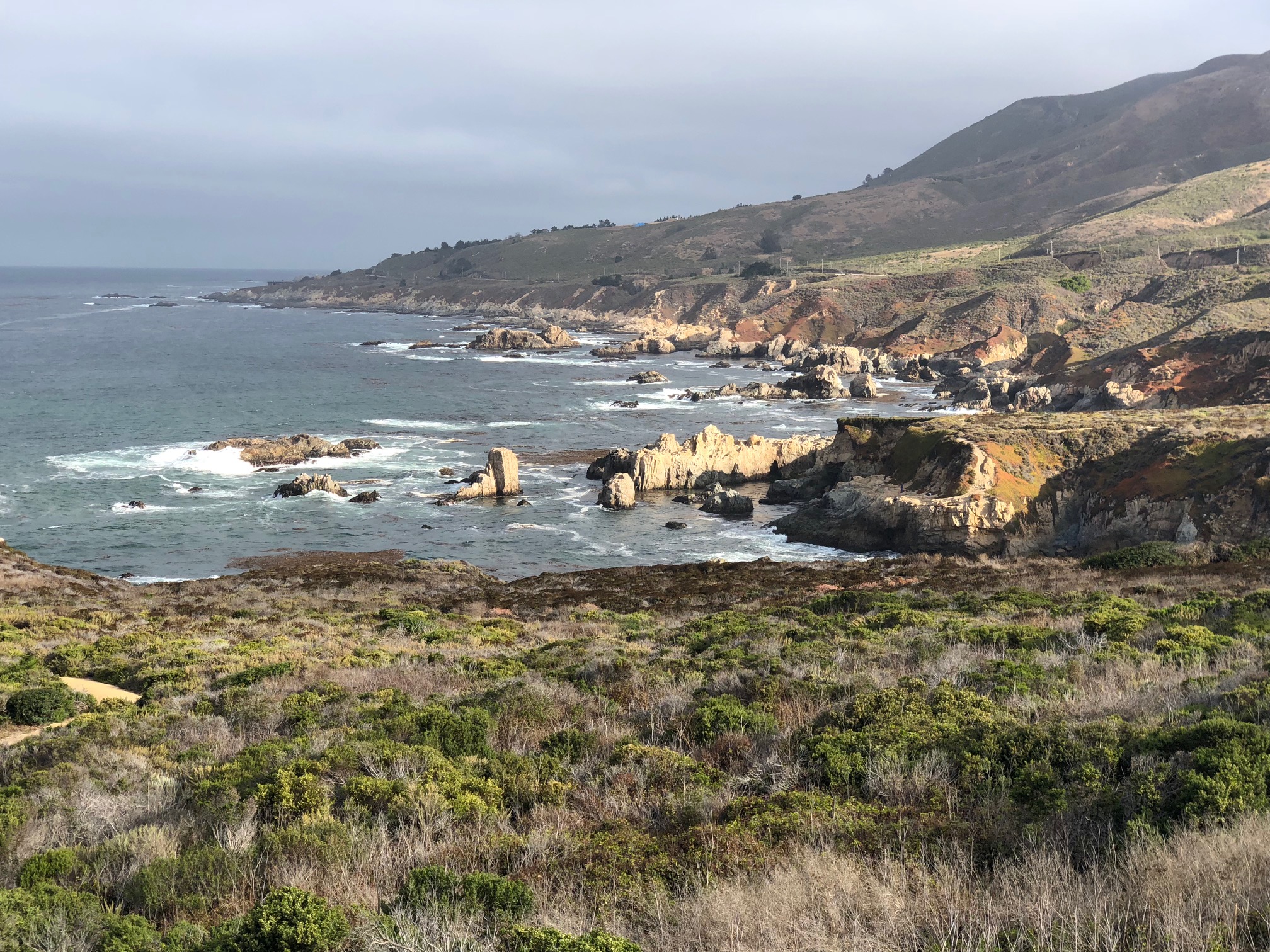 Just past Big Sur, I saw another road sign–"Hearst Castle 45 miles". I'm now about 50 miles in, it's 50+ miles to Hearst Castle, and 50 miles from there. So I'm a total idiot and miscalculated the distance. It was 150 miles, not 100! Thinking back, I had been climbing all day, and hard too. If I knew about the extra distance I would have taken it easy, or made a different plan, but now with my brilliant shipping, it's fixed distance, so I had to get there.
I stopped in Gorda for lunch at mile 75. A great thing about bike touring is that you burn so many damn calories that you can justify eating anything you like. So I had a delicious bacon cheeseburger and a slice of cheesecake. It's also entertaining as heck to people watch in these places. You see all types.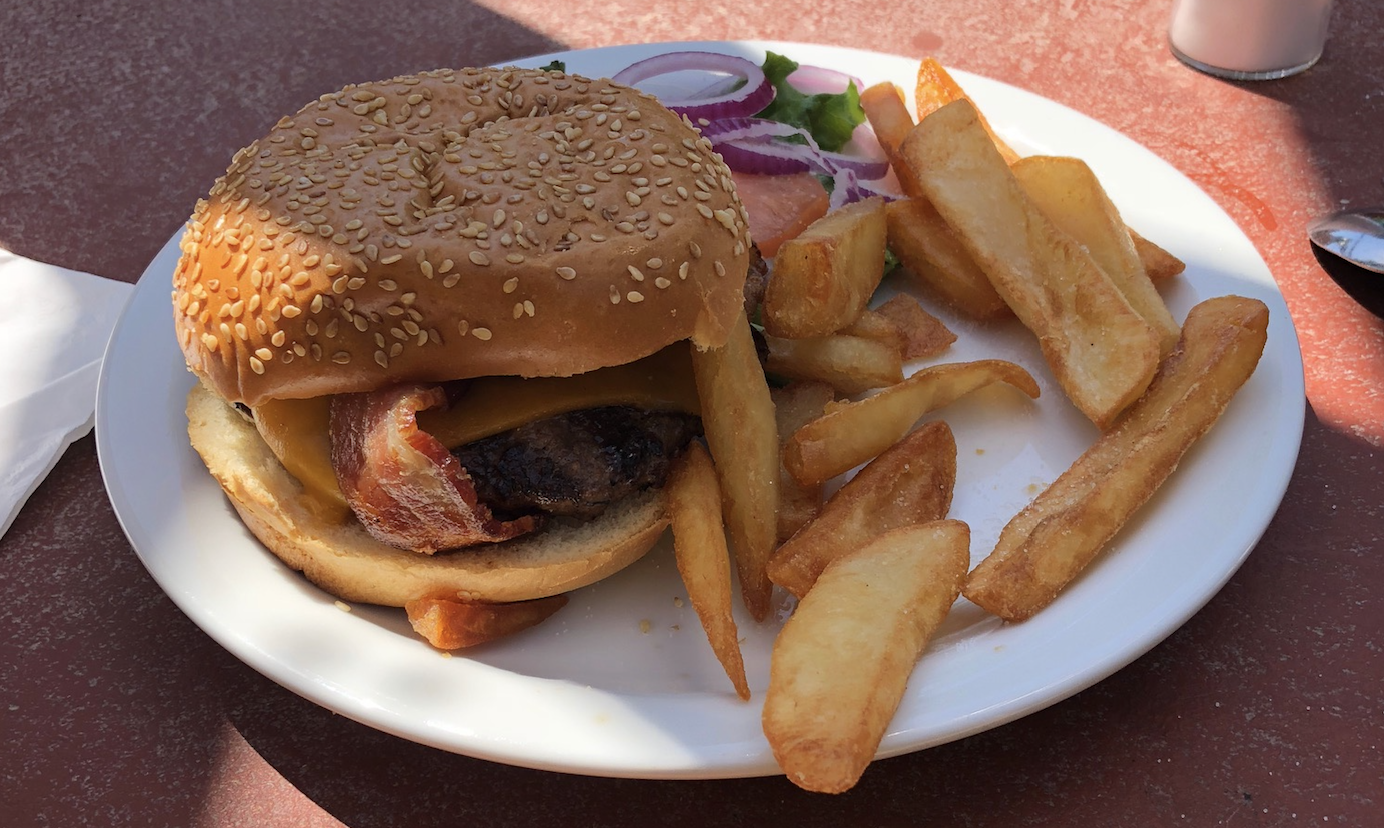 After that, the road flatens out… but there's a catch! There are insanely strong tailwinds. I don't mean the tiny 5mph ones but serious winds, where you can spin out your top gear and STILL hear your tires on the pavement! It's honestly more fun and rewarding than bombing down a hill. There were stretches that I held 38 MPH for miles and would have gone faster if I had a bigger gear. It's a priceless gift to have that sort of assistance towards the end of a long day. It went on all the way to Cambria.
I met some other biker along the way who wanted to chat, but I had a giant tailwind and wanted to have nothing of it–I just wanted to get off the bike. I'm at mile 120 now and I usually don't ride more than 65 miles in a day. I went through Morro Bay where it seems that the most popular sport is now kite surfing. Strava directed me over one last climb into San Luis (be careful when you choose the "most popular" path because bikers like to climb!) and I hit the FedEx right as the odo hit 150 miles.
My hotel was junk, as expected, and the people next door to me were up at 3AM arguing over who had more shots of tequila that night. I managed to get some sleep, but nothing like what I hoped for.
Day 2 riding numbers: 8h 20m, 150 miles, 8660 ft of climbing. I felt… tired.
I've done the ride from San Luis Obispo to Santa Barbara before–albeit 25 years ago and on a mountain bike–and I remember those epic tailwinds urging you along the whole way. This was life before Strava, so the ride didn't really happen (so I can lie about it) but I recall doing it around 4h 30m. With that in my fading memory I figured this day wouldn't be all that bad, because Mother Nature would shove me along, and I could roll into Santa Barbara in about 5 hours.
Turns out that the wind was not in my favor–on the contrary I had a serious headwind for at least 35 miles. I couldn't get into the grove, probably just exhausted from the last few days, or demoralized by the feeling of not making forward progress. Because of that, I didn't take many photos along the route (plus, there's not much to photograph).
The roads around Pismo Beach are a little scary because of small shoulders and you ride on farm roads until the approach to Lompoc. Again, following my Strava suggestions, I ended up on Harris grade which seems like the "Old La Honda" of Lompoc. It's actually a great climb, except for being 300 miles into a ride and having sore feet and a really sore tail. I made it into Lompoc and went to a local diner for breakfast, convinced that I was at the "top of the hill" (this turned out to be wrong, as well).
I have to point out that the people I met in that diner were some of the nicest people in the world. I don't think Lompoc is a particularily affluent area, but they sure have some nice people, well, at least in that diner.
From then on, more headwinds. God you want to die riding on the flats, in the drops, going 10 mph and still working as hard as you can. Also of extreme peculiarity, I saw two dead owls on the side of the road during this stretch. I've never seen a dead owl in my life, and I do know owls die but that was weird.
After what felt like a lifetime I reached a sign that said "7.00% grade next 2 miles". Finally a sign from above, I was on my way to Gaviota.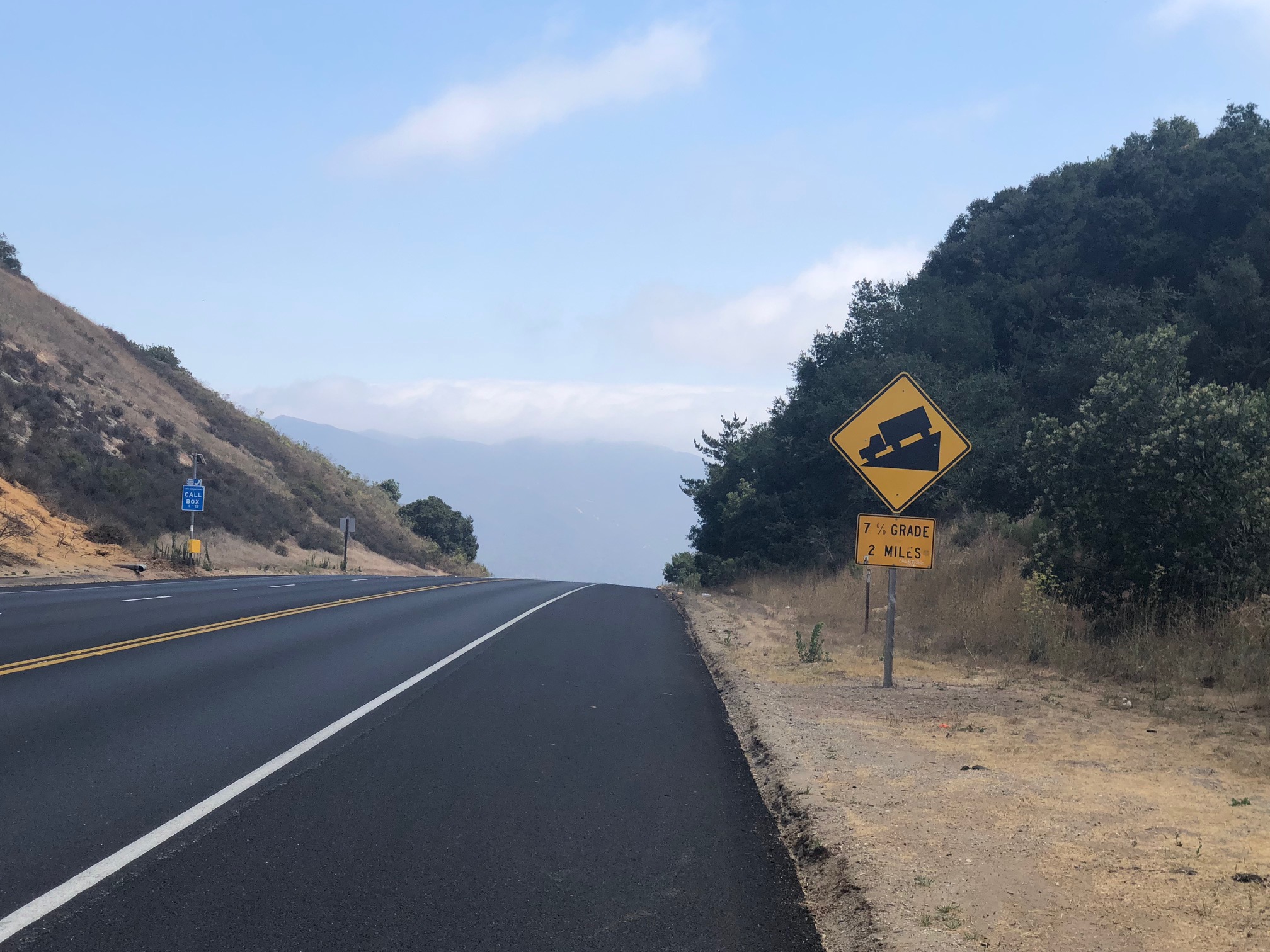 It was quite a descent down to Gaviota, where Highway 1 and 101 join forces to take you down the final stretch to Santa Barbara. It was still windy and these fancy deep carbon fiber wheels are not very stable in cross winds. But I made it down, and was on the 101.
When you ride on the freeway–at least this section of it–you feel an obligation to ride hard. It could be due to being passed by hundreds of cars. It could also be the desire to get it over with because riding on the freeway sucks. Whatever it is, that section went pretty fast–maybe 20 mph for the next 20 miles until I hit UCSB. From there I was a complete zombie and will not write about the next 13 miles.
I went straight to Rudy's on Canon Perdido and had 2 glasses of horchata. I picked up my box at FedEx on lower State Street and biked to the hotel at about 6 mph. I was totally done.
Day 3 riding numbers: 6h 40m, 110 miles, 4500 ft of climbing. I couldn't even…
Total trip riding numbers: 20h, 351 miles, 17,740 ft of climbing
So I had done it, but felt unbelievably sick right afterwards. I missed meeting my buddy Brian for dinner and didn't feel better for about 2 hours. Eventually I got out and started to feel normal again, and when I saw Brian later for a drink, he summed up the excursion quite eloquently:
Amazing job Tony, but you're an idiot
That's the story, what did I learn along the way?
Well, everyone talks about planning, but the day 2 fiasco could have been avoided by reading the map correctly. Would I have changed the course or added another day? Honestly I probably wouldn't have, because of other constraints. But I sure as heck would have slowed down, stopped to eat twice, and been more mentally prepared.
The mailing of supplies worked out pretty well–I guess I'll see if my packages get back. One surprise to me was that the FedEx center wasn't open 24x7 in San Luis, and I had to leave it for someone at the hotel to mail, which ended up being pretty lucky. It's worth finding out if the hotel will send packages for you if you do that.
In each box I mailed sports bars and Gu. On day 1, I had one of each. On day 2, I had half a sports bar. On day 3 I couldn't even think of eating a sports bar, despite being completely depleted. I should know better, but you need to carry real food. Sports bars are not for distance cycling or touring–I would have been better off with a bag of almonds and some beef jerkey.
Shockingly I only saw two other bike tourists on the whole ride. Now, you could say that there were tons of them and we were all going the same speed but I don't think that was the case. Maybe bike touring on Labor Day is not popular. But I thought that was pretty odd.
I saw so many damn Tesla Model 3s on this trip that I have to say, anyone shorting their stock is an absolute idiot.
Taking the train home after a trip like that seems to be the right thing to do. It's true that Amtrak is pretty janky, and it's slow as molasses, but after being offline for three days, sitting in a lounge car with a view of the California countryside is pretty relaxing. Plus I got to inbox zero…
I'll end on the train topic with one piece of advice. Before handing your bike over to them, get some Foam.